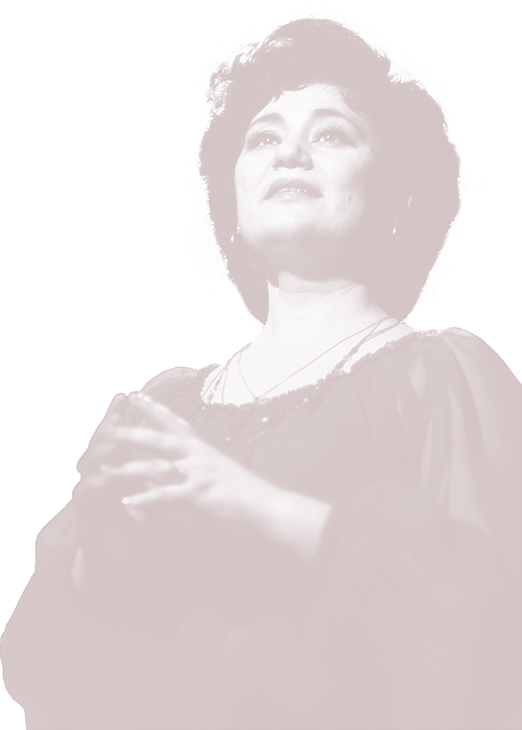 Lucie Kaňková
Soprano, Czech
The Czech soprano, Lucie Kaňková, was born into an esteemed musical family. At the age of 4, she started to play violin and piano. In 2002 she successfully passed the demanding selection examinations to gain a place at the Music High School (Gymnasium) in Prague, where she cultivated her abilities to play violin. 6 years later (2008) she continued her musical education at the Prague Conservatory where she favourably graduated with a DiS. degree in 2012.
In 2010, Lucie Kaňková was granted the opportunity to participate in a project by Mathias Spohr (the Swiss composer) where she sang the main female role Miesmies in a contemporary opera Spiegel das Kätzchen, based on Paul Burkard's famous novel on different stages in the Czech Republic and Switzerland (Theater Winterthur, Langenthal, Zürich Rigiblick). During this successful production, she was discovered by maestro Francisco Araiza in Zürich. Meanwhile she worked also with maestro A.Carangelo in Vienna and with Prof. M.Beňačková at Janáček's Academy in Brno (Czech Republic).
Lucie Kaňková holds many awards from different competitions. At the international singing competition in Olomouc (Czech Republic), she twice obtained the 1st prize, laureate title, as well as a special prize of the jury. Furthermore, she won the 1st prize at an international chamber music competition in Stonava (Czech Republic); and in 2012 became the absolute winner of a three-round singing competition in Turnov (Czech Republic). In 2015 the young soprano reached the 2nd place at Nico Dostal's Operetta Singing Competition in Korneuburg bei Wien (Austria) including an additional contract with the Operettenzauber festival in Germany. At the Antonín Dvořák's International Singing Competition 2015 Lucie won the 2nd prize with 5 additional prizes. In 2016 she gained the 1st prize in Opera category with 8 additional prizes including two contracts with theatres (in Bratislava SK and Opava CZ), and contracts with an opera festival in Kutná Hora (Czech Republic), with 3 symphony orchestras, with radio Classic CZ and a cooperation possibility with a Swiss Opera Agency. In 2017 Lucie Kaňková won the 2nd prize with a special prize for interpretation at the American International Czech & Slovak Voice Competition in the USA. Further she obtained the 2nd prize including all special prizes for interpretation and following concerts at the Bohuslav Martinů's Competition in Prague (Czech Republic).
Lucie Kaňková recently finished her master's degree program "MA Specialized Music Performance Opera" at the Swiss Opera Studio with Professor Mathias Behrens, Mr. Franco Trinca and Professor Barbara Löcher, passing with distinction. As a final work at the Swiss Opera Studio, she sang in June 2015 the main role Teofane in George Frideric Handel's Ottone, on the stage of State Theatre Biel and Solothurn.
In addition to solo concerts, in the season 2014-2015, Lucie Kaňková portrayed two different roles in Theatre Biel-Solothurn, singing in Donizetti's Viva la Mamma the role of Seconda Donna Luigia and in Dvořák's Rusalka the role of Kuchtík. Lucie visited many different theatres in Switzerland (Visp, Baden, Schaffhausen, Vevey, Vernier, Düdingen, Thun, Burgdorf, Winterthur, Langenthal) with these productions. In 2016, she produced her own production of Ariadne (a Bohuslav Martinů opera), where she sang the title role. She has appeared as Ariadne in different places in Switzerland and the Czech Republic. In 2017, she performed in the Czech Republic, Germany, Switzerland and England with South Bohemian Philharmonic (Czech Republic), Prague Radio Symphony Orchestra (Czech Republic), Czechoslovakia Chamber Orchestra (Czech Republic), Karlovy Vary Symphony Orchestra (Czech Republic), Thüringen Philharmonie (Germany), Lucerne Artists Orchestra (Switzerland) and great pianist.
In September 2016, Lucie Kaňková started a two-year Solo Performance master's degree programme in Luzern, in the class of ProfESSOR Barbara Löcher. In Spetember 2017, she also started a PhD programme at the Academy of Performing Arts in Prague. Currently, she works with KS Gabriela Beňačková and plans a further cooperation with different theaters including the Prague and Slovak National Theater.