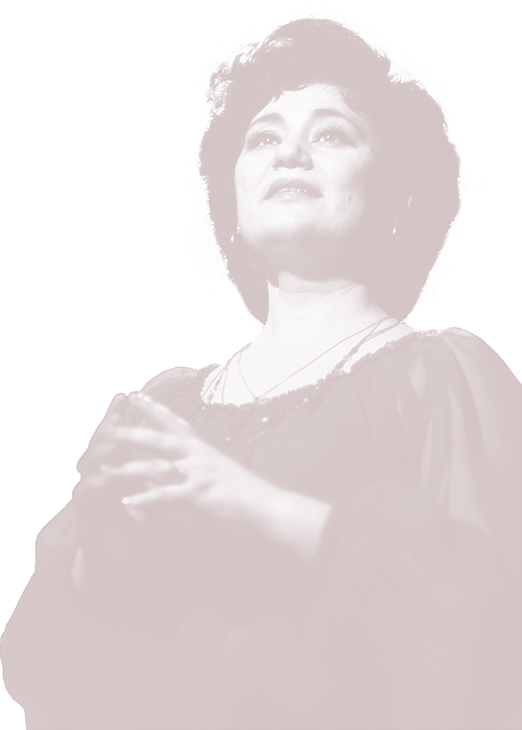 Tatiana Busuioc
Mezzo-soprano, People's Artist
CURRENT REPERTOIRE
Titles and merits:
Master of Arts 2006
Training:
Studies:
1985 - graduated from the Transnistrian Music College, class prof. L. M / Kozlovskaia
1991 - A.V. Nejdanova, Odessa Academy of Music, Ukraine. Class prof, A, V.Djamagorțean.
Professional activity:
1991 - present: vocal soloist (mezzo-soprano) of TNOB "Maria Bieșu" from Chisinau, Moldova;
2006 - activates at the Academic Singing department.
Educated over 30 singers.
Awards:
2011 - Operalia (2nd prize)
2012 - Francis Vinas-Barcelona (Grand Prix)
Ottavio Ziino-Roma (2nd prize)
2013 - S. Moniuzko-Poland (Grand Prix)
2014 - Belvedere - Vienna, Iris Adami - C-Padua
Master -Class:
15-20.06.2015 - Bolishoi Opera House (Warsaw)
14-21.10.2015 - Bolishoi Opera House (Warsaw)
6-7.12.2019 - Lvov Opera House (Ukraine)
04.12.2019 - Tiraspol Institute of Arts (Transnistria)
Repertoire:
Opera repertoire:
P.I. Tchaikovsky- Marta "Iolanta" 2021,
Olga, Larina, Neanea - "Evgheni Oneghin"
Polina, Countess - "Lady of Spades"
Cherubino ("Figaro's Wedding" - W.A. Mozart)
Fenena ("Nabucco" G. Verdi)
Flora ("Traviata" G. Verdi)
Asucena ("The Troubadour" G. Verdi)
Amneris ("Aida" G.Verdi)
Eboli ("Don Carlos" G.Verdi)
Presiozilla ("The Force of Destiny" G.Verdi)
Adalgisa ("Norma" V. Bellini)
Carmen ("Carmen" G.Bizet)
Suzuki ("Madama Butterfly" G. Puccini)
Santuzza ("Cavalleria rusticana" P.Mascagni)
Vocal-symphonic repertoire:
"Requiem" by W.A. Mozart, G. Verdi
"Symphony No. 9" by L.W. Beethoven
Tournaments and collaborations:
Tours: Romania, Ukraine, Bulgaria, Italy, Spain, Portugal, Great Britain, Ireland, France, Germany, Holland, Dubai United Arab Emirates, etc.